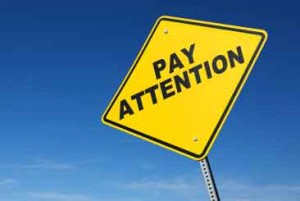 After a survival mentality, what is the one skill a person can possess that will save their life? There are many important skills, many that will improve your chances of continued survival, but the most critical is situational awareness. What is situational awareness? There is more to this than simply paying attention to one's surroundings.
Due to our being born and raised in a civilized society for hundreds of years, most humans have had many of their natural instincts bred out of them. In a world of smart phones, tablets, personal computers, internet, email, text messages, social media and the 24 hour availability of hand-held electronic entertainment, it is far too easy to be sucked into that device and become oblivious to the world around us.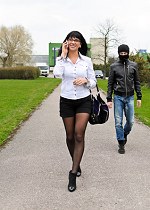 We can however, with effort and training get those instincts back. We need to retrain ourselves to use all of our senses, when analyzing our surroundings. Am I saying trash the smartphone, move to the Klondike and live off the grid? If that's the lifestyle you desire then knock yourself out, but it's not at all what I'm suggesting, nor is it a conceivable reality for most people. Most of us still have a 9-5 (or in my case a work when the phone rings) that we depend on to pay the mortgage, bring home the groceries and put braces on the kids! What I'm suggesting is master the technology, don't become its servant.
At home, in your environment you can be totally relaxed, watch movies, listen to headphones and be blissfully unaware of your surroundings, but when you walk out that door you should go to relaxed alert. You should put the cell phone in the purse or pocket, have your eyes and ears (and nose) open and functioning. If you don't have a good feeling about something or someone listen to your instincts. It's that primal part of your brain waking back up and warning you that danger could be ahead.
Because your brain can only process so much information and there's little chance that it possesses the capability to be aware of every person or situation in your environment, you need to take some shortcuts.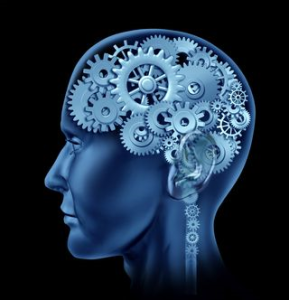 In your daily life establish a normalcy baseline for your environment, and then analyze anything or anyone that falls outside your baseline. For example, if you're in Aurora Colorado walking to a Starbucks on a snowy January morning and if you see a woman in a tank top sitting beside the road, that is someone that deserves a second look. Now this woman may not be an obvious threat, but there is a story here and that story is what we want to figure out. If she's muttering to herself and has blood on her clothes, we may want to keep clear and notify the authorities. However maybe she just got out of her car to get coffee and locked her keys in her car and is upset at herself for doing so and she just needs to use a cell phone to call a locksmith. Similarly a guy in tactical dress with a bulky jacket on an August afternoon in Manhattan is also outside any normal baseline.
When you observe people around you look at their eyes, the old saying, "the eyes are the window to the soul" is true. If you've been in combat or know people that have you're probably familiar with the "thousand yard stare" when you see it, that is a person that is alone within and attempts to make contact may be met with hostility. This is a person you want to keep at a distance. Likewise squinting of the eyes narrows your vision and increases your depth perception and is a classic attack stare.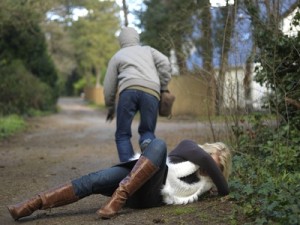 Similarly according to Psychology Today criminals frequently pick their victims based on body language. A person that is aware of their surroundings, walks like they have a purpose and meets the gaze of other people is far less likely to be targeted than someone who is distracted, disengaged or fearful. In other words, shuffling down the sidewalk, with ear buds in your ears checking Facebook or your Twitter feed makes you a prime target for criminals no matter what sex or age you are!
We've talked about what situational awareness is, but why is it important? How is it beneficial? As we have discussed having situational awareness is the practice of using your senses to establish and be aware of baselines of appearance and behavior in your surroundings. Once those baselines have been established we note behavior outside the baseline and interpret those anomalies using an OODA Loop.
The OODA Loop is a decision making loop developed by USAF Col. John Boyd who was a military strategist and pilot. OODA is an acronym for Observe, Orient, Decision, and Action. Boyd's theory was that the person that completed the loop first had the tactical advantage. The loop then continues based on the new observations of the actions taken. So utilizing the OODA Loop, if you are constantly observing and orienting your surroundings, you will not only see a threat before it becomes a threat, but will know possible escape routes, barricades or hindering terrain to avoid and/or exploit, allowing for immediate decision and action because you will already have a head start in the OODA Loop.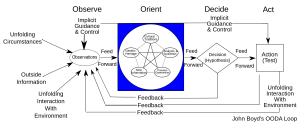 As you go through your daily activities and begin to practice your situational awareness, often you will observe the sheep of society with their heads and attentions absorbed in their electronic devices. You will see families or people at restaurants that although they are sitting together each has their attention focused on their personal device. So much so, in fact, many places this will become a normalcy baseline in your environment.
Although I have talked about setting a normalcy baseline, this is much different than a person's normalcy bias. A normalcy bias is a person's attempt to fit some outside behavior into what's normal.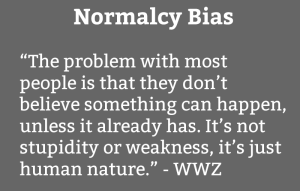 Many times when you hear eye-witness accounts of shootings, people often times describe what they thought were firecrackers. That is the persons attempt to fit gun shots (a very abnormal thing) into what is normal so they don't have to deal with this new and uncomfortable situation. By setting a normalcy baseline, it allows us to observe and act on anything that is outside the baseline, what is not normal, it doesn't try to fit anomalies into our baseline. So a normalcy baseline allows us to notice things that are not normal and can save your life, while a normalcy bias is the minds tendency to rationalize abnormal things as normal and can get you killed!